2013 Minnesota Vikings Training Camp Access Day 4
I know… I know… right about now I should be live tweeting from training camp and writing up your updates from today's practice. Instead, today is Walkthrough Wednesday (or time to go back to work in layman terms). However, I did bear through the rain to catch some photos and highlights from Vikings' walkthrough early this morning. I also gave away two more autographs, for those of you who have yet to follow me on Twitter @Cbrusoewriter.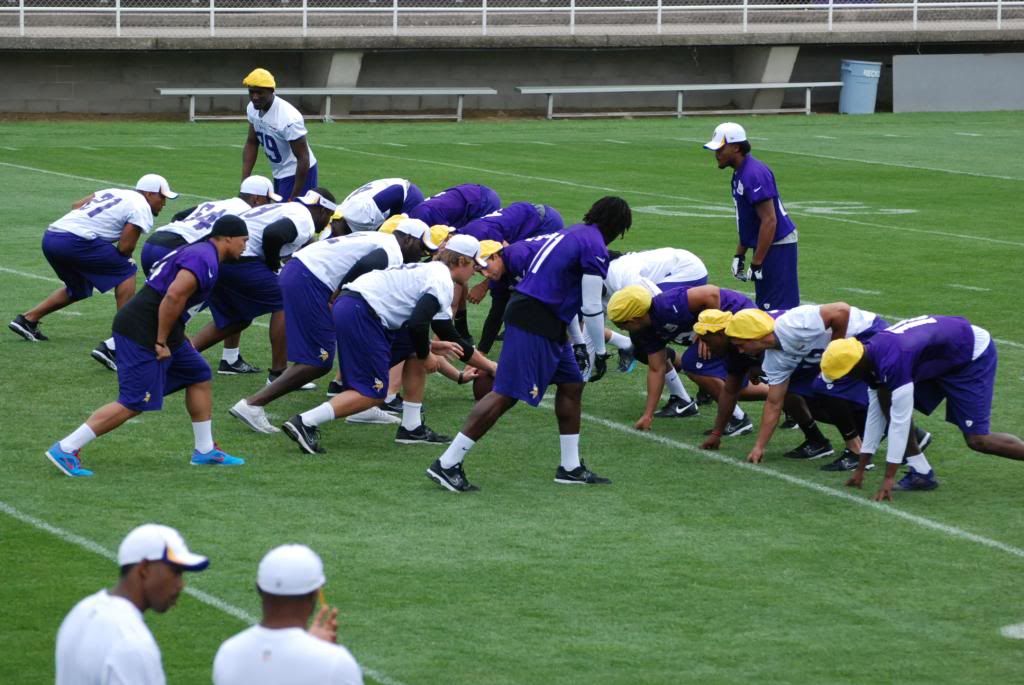 Today's updates are going to be a little erratic and boring. And instead of trying to make up or over analyze players walking around the fields, I'm going to make this post more of a pictorial (for your viewing pleasure).
- I came early enough this morning that I got to see which players walked onto the practice field together and which spent a few moments talking before walkthrough began. Here's the players I saw paired up:
John Carlson and Harrison Smith (our Notre Dame alum)
Adam Thielen and LaMark Brown (Mankato alum)
Gerald Hodges and Sharrif Floyd (Hodges put Floyd in a rear arm lock)
Roderick Williams and Joe Webb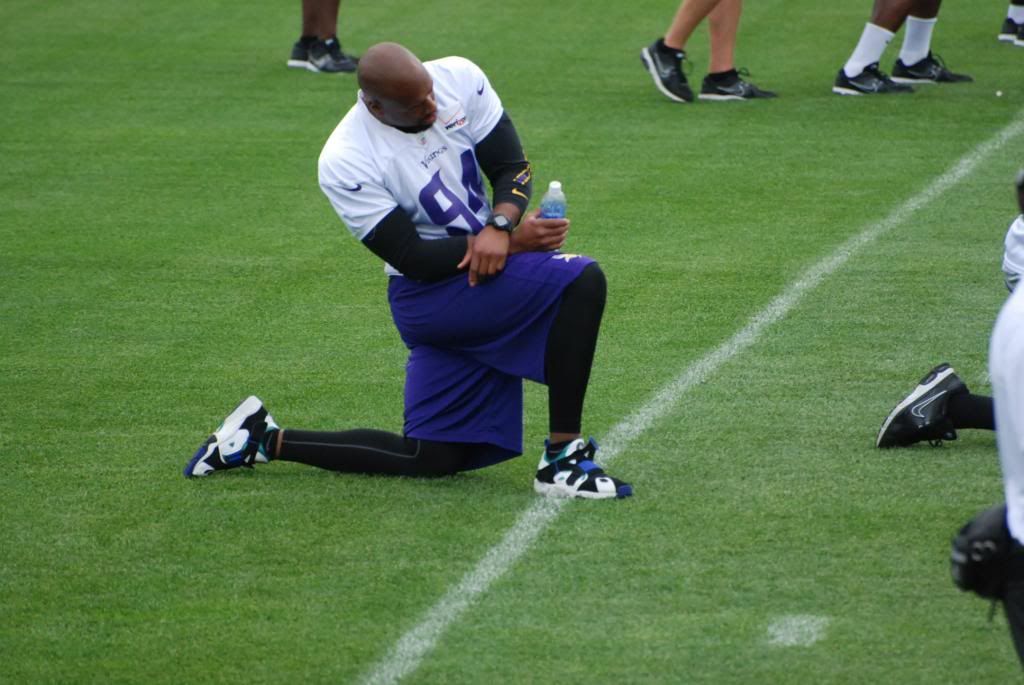 Pre-Practice Notes:
- Cassel spent a few minutes warming up with throws to Floyd
- Cordarrelle Patterson was last on the field, minus the rest of the quarterbacks
Mid-Practice Notes:
- Half the hour was spent on formation of special teams. Jarius Wright took a majority of the returns.
- The other half was spent on defensive formations on half the gym and offensive formations on the other half.
- Rain began to pour 10 minutes into the walkthrough and all the fans and players were directed inside.
- Everson Griffen took the running back handoffs while the defense worked on filling the gaps.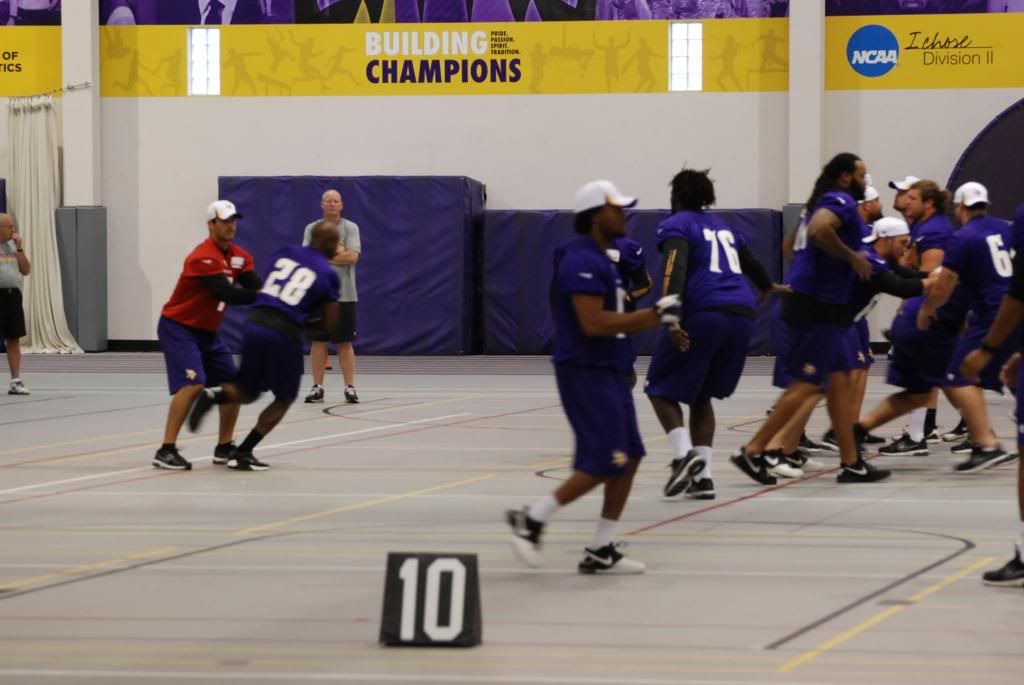 Post-Practice Notes:
- The linebackers all stayed after practice to sign autographs. Chad Greenway was the favorite, with a line 150+ people long. No… I didn't join that line.
- Josh Robinson seemed to be teaching Bobby Felder a few things off to the side.
- All of the cornerbacks stayed after practice again (this is becoming a theme for them). This is a rowdy, hard working group and I'm getting the vibe they want to surprise a few people this year.
Optimism:
- The optimism I have for you today is that… the weekend isn't too far away! And I will be back for Vikings Training Camp coverage this Saturday! I'll be writing up a special edition for you guys, walkthrough in the morning and 7-9 pm scrimmage at night! As has become the norm, I may also have a few surprises up my sleeve for those loyal to come read my tweets/facebook posts on Saturday. Stay tuned :)
Take a look at more photos of today's practice at: http://s1280.photobucket.com/user/pjdtrainingcamp/library/Training%20Camp%20Day%204?sort=3&page=1
Also, keep an eye out for the videos I'll be uploading at www.facebook.com/purplejesusdiaries
Even though you classified it as "boring", I always kind of wonder at what point the team calms things down and runs through some of the basic Xs and Os from the class room out on the field, like half speed to mentally process it. At half speed, without pads, I'm sure everyone looks pretty good though, which isn't too helpful!

ArifHasan
3 Like
@PJD They do it fairly often. Always in the morning for an hour, and then a half-hour or more in pads.
And then they start hitting people.
@ArifHasan @PJD Seeing Arif comment at PJD is like having worlds collide.
@ArifHasan That part is the MOST fun. The hitting, I mean. 
Woohoo stoked for Saturday's update. Can't wait!